Cultural Village
Irish craft & history
Fáilte don Sráidbhaile Cultúrtha nua!
Fáilte don Sráidbhaile Cultúrtha! Welcome to the Cultural Street! Here you can immerse yourself in Irish culture as you watch blacksmiths, weavers, spinners and artists at work. Learn a few words as Gaeilge, stop by our genealogy tent to learn more about your Irish Ancestry, even try your hand at axe throwing at the Hurling Hatchets booth. Top off your visit with a stop at Dillon's Pub for a rest all while surrounded by the Irish music we love.
Blacksmiths
Joining us for the fifth year are Lucky Clover Forge and Double Anvil Forge and friends showing off their impressive blacksmithing skills and even giving you the opportunity to get your hands dirty with some hands on training. There will also be a few Forged in Fire style forge offs again this year so keep an eye out for the times as you won't want to miss it!

Hurling Hatchets
We are thrilled to welcome back Hurling Hatchets. Take a chance and see how good your aim and throwing arm are. Oh, and did we mention this is included for free with your entry into the fest!

Art Gallery
Visit the art gallery in the COR building to view all of Gary Kelly's art created especially for the Iowa Irish Fest as well as the art from this year's live artist demonstrations.
Spinners and Weaver's Guild
Get hands on with the Northeast Iowa Weavers and Spinners Guild. Try your hand on the four-harness loom or at spinning yarn. Also learn all about lace making and how linen is made.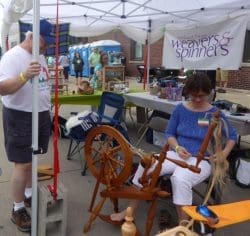 Dillon's Pub
Take a break at Dillon's Pub where you can have a seat in the shade enjoy a beverage and some local and international solo musical acts. Plus don't miss the open music sessions happening on Friday and Saturday night. While these will be led by The Des Moines Session Group they are open to the public so feel free to bring your instrument or party piece and participate!

Enjoy a variety of "live art" during the Irish Fest with a bit of the Irish magic worked into it by Deb Kathleen Weiser. Deb came over from Ireland with her folks when she was in her teens. She developed her skills and love of art from her mother. "Mamaí, how can you paint so well?" "Tis magic darling, that's all it is." But she showed her daughter how to use more than just paint; she showed her how to develop her imagination. Deb has left her "art mark" on walls and buildings from the Florida Keys to Toronto and from Iowa to Italy and Holland.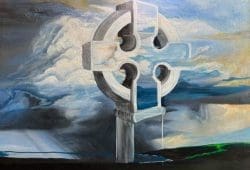 *NEW*Haunted Ireland
Stop by the Haunted Ireland display to not only learn about some of the most haunted places in Emerald Isle but also the superstitions and creatures that have had an impact on our own Halloween celebrations. But, beware rumor has it we will be hosting some haunts from the scare masters at Heart of Darkness!
Pop-up Consulate
Returning this year we welcome the Irish Consulate of Chicago to the Iowa Irish Fest. They will be hosting a Pop-up Consulate to answer questions about Irish Passports, Citizenship and travel
.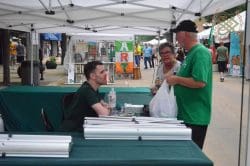 Uncle Stinky Blacksmithing
New to the Iowa Irish Fest this year we are excited to welcome Uncle Stinky's Blacksmithing show. Stop by for some fun and special treats.
The Cultural Village is sponsored by: