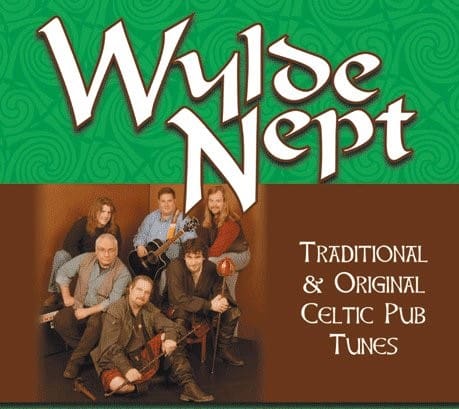 Wylde Nept
Cedar Rapids, Iowa
[See Schedule]
Wylde Nept was started when a few of the guys found each other during a camping trip at a Celtic music festival and have been playing ever since. Their music, primarily inspired by traditional folk, is lively, fun and sure get your face smiling and foot tapping. "I find the spirit of the songs and then link music to feelings," says Westan James, Wylde Nept's lead singer.
Listening to Wylde Nept, you can have tear in the eye during one song and then swing a beer wildly around while singing with a crowd during the next. George Curtis Jr., the bands percussionist, says it's their motto, "If it's not fun, then were not going to do it," that's kept the band together so well. That's clear during each and every one of their shows.
The band plays many traditional songs like, "Whiskey in the Jar," "The Scotsman" and many more. They also have many original songs like "Bewitchin' Brenda" and "The Gallows."
They have been called a folk band, rock band, and have even opened for Fog Hat once upon a time. But they don't just perform the music, or try to re-create the songs how they may have originally been presented. Instead they capture the feeling behind the songs and do an incredible job at putting it to music and sucking in the audience.
"Come see us. If you don't like folk music you might change your mind," says George.
I can tell you for sure this isn't like folk music you have heard before and being at a show brings it even further to life. Be ready to have fun, always keep your drink full at the ready, and when you hear the word "Sligo", tip a glass with the rest of the crowd.