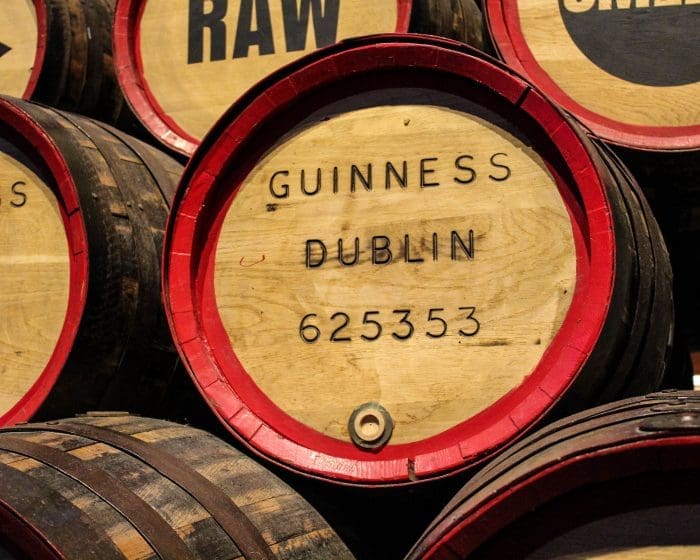 The Guinness Experience
look for the big Guinness banners
The Guinness Experience Class with Jimmy Callahan
[Anton's Volks Haus 324 E. 4th St. Waterloo, within the IIF grounds : Saturday, August 7, 2021 : 12PM /2PM / 4PM /
6PM

  ]

We are pleased to announce that Jimmy Callahan, National Guinness Brand Ambassador, will be on-site to host four exclusive storytelling seminars about the history of Guinness brewing.  Jimmy will also field your questions about the beer making process, the evolution of the brand, as well as explain the cultural impact Guinness has on Ireland and the world!  Each session will be approximately 45 minutes in length.

Additional Perks:  Class participants will receive an authentic Guinness pint glass, learn how to pour "The Perfect Pint", and enjoy drinking that very beer!  Five Guinness Family beers will be sampled during the class.  A goody bag will also be provided (with an additional beer voucher and special treats).
Class Size:  30 participants
Cost:  $30
Note:  Participants must be over 21.
Admission to the fest is NOT included with this experience.
The Guinness Experience in The Pub
[ Anton's Volks Haus 324 E. 4th St., Waterloo,within the IIF grounds : Friday, August 6th   4pm-10pm / Saturday, August 7th   11am-10pm / Sunday, August 8th   11-5pm ]
Note:  The Pub will be CLOSED to visitors during the Saturday seminar sessions (ticketed event)

Peader Hickey will be performing Friday 7p-9p
Once you step inside The Guinness Experience Pub, you will feel as if you've been transported to Ireland!  Come inside for a freshly tapped Guinness, Smithwick's, Harp, or Guinness Blonde. While inside The Pub, learn about the history of Guinness beer, view a variety of historical photos, test yourself with Guinness trivia, and relax with a pint.
Cost:  beer tokens/debit card needed to make beer or merchandise purchases
Note:  Must be over 21 to enter.
Online registration is no longer available
PLEASE INQUIRE ABOUT OPEN SPOTS AT THE FEST