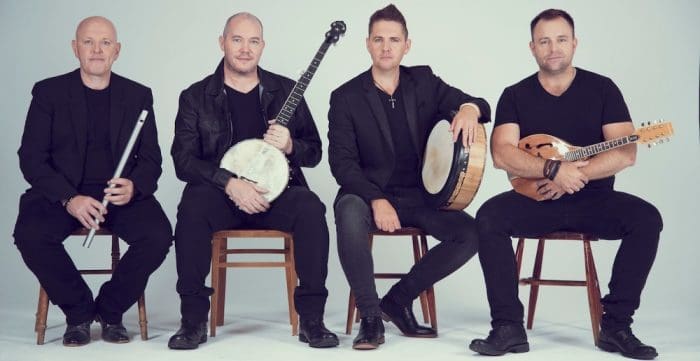 The High Kings
Ireland
[Sat-Sun]
Headlining Sunday, The High Kings formed over a decade ago. These four Irish singers, performers and songwriters decided to take a calculated risk. The constituent parts of The High Kings each had a wealth of history in the music business behind them but knew that in order to maintain any level of creative interest they would have to boldly go where no other Irish ballad group had gone before.   "We could sing well, play our instruments well and harmonize well," says Darren Holden, humbly underselling somewhat the numerous skillsets of the individual members. "People were looking for guys with character, presence – not just cardboard cut-outs – so the respective experience we all had wasn't just helpful but essential. The four members immediately knew that something special was taking place ("we knew within the space of a few songs that there was magic"), and within months had clicked as a creative unit as well as friends.
To say that The High Kings are charting a new course for Irish ballad music – equal parts rousing and reflective, energetic and insightful – is an understatement. They are, essentially, marking out a new and bright era for Irish folk music, and aiming to bring a broad demographic along for the journey. With 2016's 'Grace & Glory', the band widened their appeal and fan base, as Finbarr affirmed. "There is something for everybody on the album, and any doubters out there might just discover there's a whole lot more to us than perceptions would have them believe. Previous High Kings albums have been stepping-stones, but this one sees us on top of things."
2017 saw the band continue with intensive touring of Ireland, the UK and America, in tandem with a rapid growth in their digital and online profile. It is also the year that the band reaches its tenth anniversary which is being marked with a very special compilation celebrating a decade of outstanding songs and performances. The departure of original High King Martin Furey and the arrival of young-gun George Murphy has brought a new hunger to the High Kings and their audiences alike.
The November 2017 release of Decade – Best of the High Kings was received with rave reviews and record sales figures with the band again topping the Irish Album Charts and returning to the Billboard World Music Charts once again.