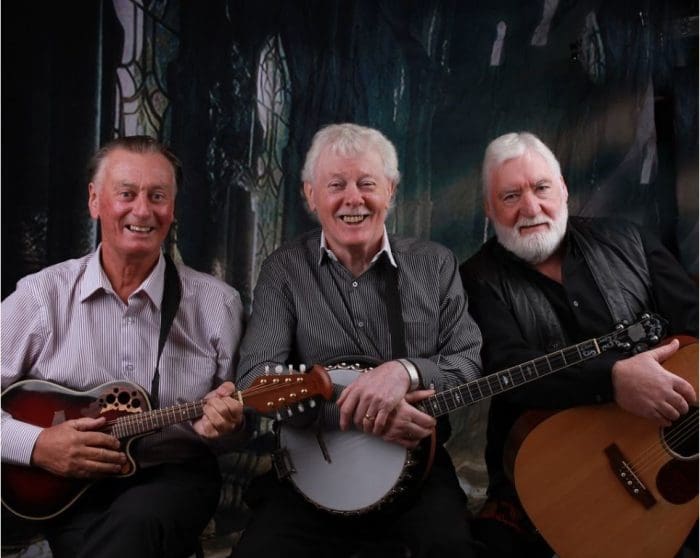 The Dublin City Ramblers
 Dublin, Ireland
[Fri-Sat-Sun]
Born in James's Street in the heart of Dublin, he spent most of his life in Inchicore. An all-round sportsman, he has many medals and trophies for GAA, Soccer and Athletics from his early days, which might account for him being an ardent "DUBs" fan, he is also a great supporter of the Irish soccer team, having played music for them on numerous occasions throughout the years. Hobbies include music, art, reading and golf in that order. Sean started his music career in 1963 by forming a band called "The Jolly Tinkers" they changed the name some years later to "The Quare Fellas" being influenced by that great author and character the late great Brendan Behan. Went on to form the "Ramblers" in 1970, turned professional in 1972, having packed in the day job in the P&T (now Eircom).
The Dublin City Ramblers have thrilled audiences worldwide with their unique blend of Ballads, Folk, Humor, Wit and foot-tapping music. Their impressive career has spanned more than 35 years, with over 30 albums, top ten hits, and several awards for best Ballad/Folk Group and, to top it all off, 8 Gold Albums. It is certainly no wonder that they are classed as Ireland's Number One Group! They have performed at most Major Festivals worldwide, including headlining The Milwaukee Irish Festival, The Cleveland Irish Festival, Hollywood Irish Fest, Florida, Miami Irish Fest, Ft Lauderdale and most USA, Canadian & other festivals throughout the Globe! Their music has also taken them all over Europe to rapturous receptions. They have performed at every major venue in Ireland and abroad, including Dublin's National Stadium, National Concert Hall, Cork's Opera House, England's Royal Albert Hall, New York's Carnegie Hall and any other venue you care to mention.
Sean has kept The Ramblers (As they are affectionately known), going throughout the years, and they are now stronger than ever.