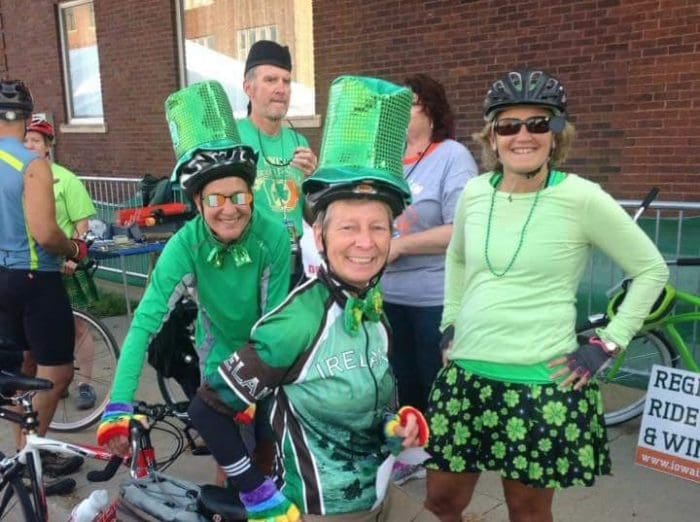 High Nelly Bike Rally
Celebrate on two wheels!
Date and time
Sat, August 5, 2023
9:00 AM – 12:00 PM CDT
Location
Iowa Irish Fest Grounds
518 Sycamore Street
Waterloo, IA 50703
Join us for a fun family trail ride or the open road ride for the experienced rider on Saturday, August 5th.
Pre-Registration will take place online now until August 2nd at 11 PM. T-shirts are only guaranteed for those who order before July 20th, 2023.  Day of registration will happen Saturday, August 5th from 8 AM to 9 AM and prices will increase by $5 respectively.
Adults – $25
Kids (4-17) – $20
Adult or Kid No T-shirt option – $15
Your weekend pass is NOT included with your High Nelly registration, but you will receive a special online discounted code to purchase a fest pass for only $20 after your registration for the High Nelly is processed. This online discounted code will come in your conformation email from the High Nelly committee.
You can pick up your High Nelly Packet the day of the race (Saturday, August 5th) starting at 8 AM. That is when walk up registration will happen as well.
Or you can pick up your packet on Friday, August 4th from 4:00-7:00 pm at Park Ave and Mulberry St near the Main Gate to the Iowa Irish Fest.
Other reminders:
Helmets are required for all riders on both routes
The High Nelly is Saturday, August 5th starting at 9:00am.
New starting location and post ride party is at Anton's Beer Garden.  Post ride beer is still on us!
The ride will happen rain or shine. NO refunds will be given if a cancelled due to weather.
Children and young adults 15 and under gain free entrance to the fest so no weekend pass is required
We will once again be giving away a bicycle as well other prizes.
Prizes will be awarded for the best Irish costume.
Download the 2023 Trail Route here: https://ridewithgps.com/routes/39559395?fbclid=IwAR230hOB6GcPoWLz2CMhVcdZNve9dZxsJ5JDsvpv55F3NmOpBoLjmmQN1P0
Download the 2023 Road Route here: https://ridewithgps.com/routes/39389447?fbclid=IwAR2R4PtHuXy3iNX_vhH7k2WoXk4OyfZCFcvWstvE0lJQn2n76wgbmo–H60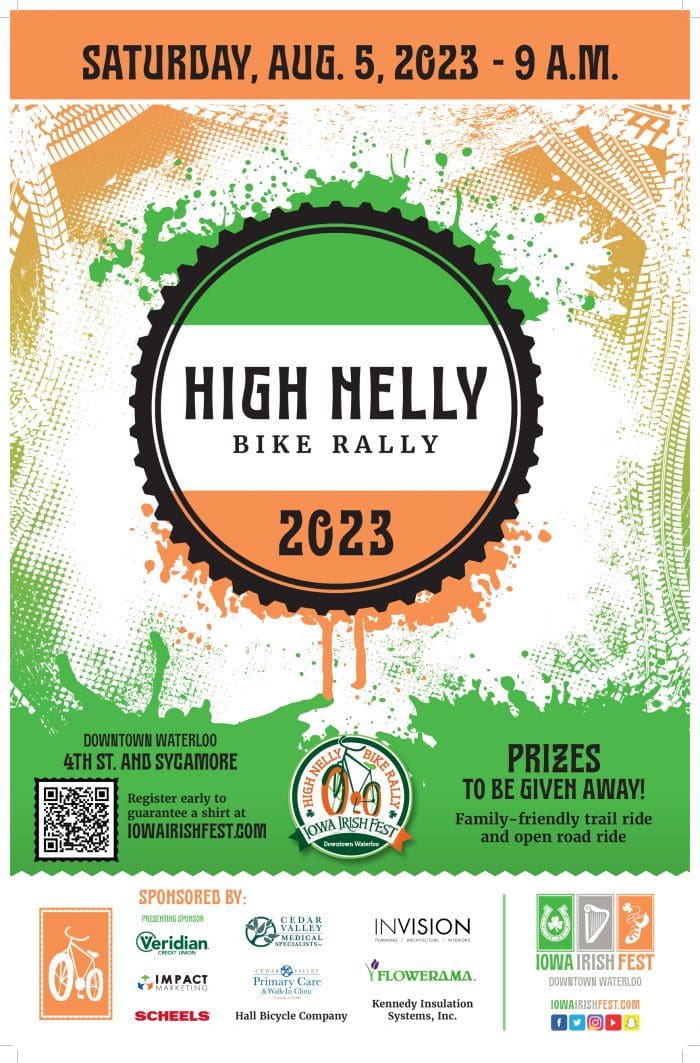 The High Nelly Bike Ride 2023 is Sponsored by:



KENNEDY INSULATION SYSTEMS, INC
Register for the High Nelly Bike Ride
Saturday, 9am. Starting location Antons Garden, Downtown Waterloo.
Please note that these maps will direct you to a website outside of the Iowa Irish Fest.
Selecting "View Full Version" will allow you to download the directions from the Ride With GPS as well as the map on any de
Selecting "Send to Device" requires you to create a free account with Ride With GPS to cast the map and directions to your Android, Apple, Garmin, Wahoo, or other GPS enabled device.

if viewing on a tablet or other smart device you will be required to download the free Ride With GPS app from your devices App Store
if viewing on PC or Laptop directs you to the Ride With GPS website to create your account