FAMILY FUN + LEARNING
Fun for the whole family!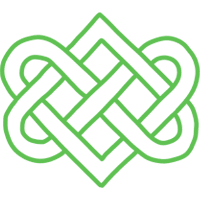 The Iowa Irish Fest Family Fun & Learning Area has amazing kid-friendly entertainment! All Children 15 and under are admitted to the Fest for Free with a paid adult admission.  All activities in the area are free!  Be sure to visit the Family Fun & Learning Area where there will be all kinds of crafts and games all weekend long.  Come enjoy the climbing rock wall or get creative in our craft area or visit with the balloon twister and face painter!  Learn about Irish Castles while having fun in our Archeological Dig at our old castle ruins and become a Junior Archeologist.  Visit our Language Learning Tree, learn new words in Irish and add your leaf to the tree. It is amazing to see it bloom over the Fest.  Go on an adventure around the Fest Grounds with our Family Fun & Learning Area Passport Challenge!  Look for the Passport Stops and learn something new, get your Passport stamped. Bring your completed Passport back to the Family Fun & Learning Area and you'll get a special Iowa Irish Fest reward!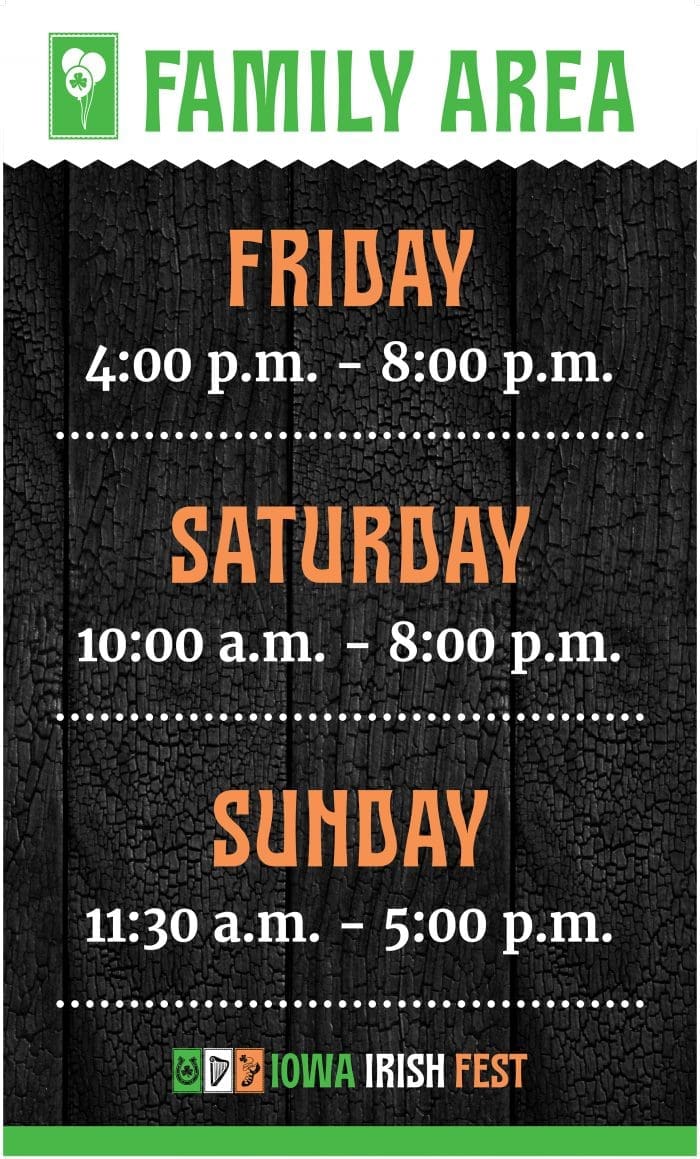 Family Fun & Learning Area Stage Schedule
FRIDAY
5:00pm – 5:45pm = Seo Linn
Irish Language for Children
6:00pm – 6:45pm = Bremer County Bucks
Introduction to RUGBY
7:15pm – 8:00pm = Highland Games
Highland Games Introduction and Demonstration
SATURDAY
10:30am – 11:15am = Ian Gould
Family Crest Workshop
Heraldry is an ancient subject, and some people spend their lives studying it. In this workshop participants will learn the basic rules and information needed to design their very own Coat of Arms. Even the bravest of knights need a shield for protection! Step-by-step, participants will create their own medieval shield by choosing their preferred colors, personal birth order symbols, animals and/or fearsome beasts. They will have the opportunity to laminate their shield to make it last for a long time. This station is great fun for all ages!
11:45am – 12:30pm = Dan Vaughn
Tin Whistle – Beginners and Children
Tin whistle will be provided to the first 50 participants.
1:00pm – 3:00pm = Bill Riley Talent Show Search 
3:30pm – 4:15pm = Celtic Kilroy
Celtic Kilroy Human Statue Q&A
This is your chance to ask Celtic Kilroy all about what life is like as a living statue!
4:45pm – 5:30pm = Cara Lockard's Violin Studio
6:00pm – 6:45pm = Trinity Irish Dancers
Irish Dance Workshop
SUNDAY
11:30am – 12:15pm = Ian Gould
Beginner Bodhrán Drum for Kids and Beginners
Bring your own drum or borrow one from the Iowa Irish Fest!
12:45pm – 1:30pm = Kansas City Gaelic Athletic Club
Introduction to HURLING and GAELIC FOOTBALL
2:00pm – 2:45pm = Shane Hennessy
Fingerstyle Guitar Demonstration
3:15pm – 4:00pm = Dan Vaughn
Tin Whistle – Beginners and Children
Tin whistle will be provided free to the first 50 participants.
4:15pm – 5:00pm = Dan Vaughn
Tin Whistle -Solo Set
Activities Available during operating hours:
* Rock Wall
* Inflatables
* Balloon Twisting
* Face Painting
* Irish Language Tree
* Dogs of Ireland
* Cedar Bend Humane Society
* Arts & Crafts / Coloring Competition
* Archeological Dig
* Mini Golf
* Ireland Ring Toss
*  Bag boards/ Corn Hole
This year, the Bill Riley Talent Search is coming to the Iowa Irish Fest!
BILL RILEY TALENT SEARCH
August 5th, 2023 @ 1:00 pm
Click here for more information!
The Family Fun + Learning Area is sponsored by:



HEARST CENTER OF THE ARTS    WATERLOO CENTER FOR THE ARTS    CEDAR VALLEY CATHOLIC SCHOOLS    D&W FLOORING
BOY SCOUTS TROOP #13    WATERLOO YOUTH CITY COUNCIL    PAWSITIVE PET CARE
ACTIVITIES + WORKSHOPS
Join in on the fun!
Check back here for more information on all the family fun!
Get Your Tickets to Irish Fest
3 days of Irish fun!