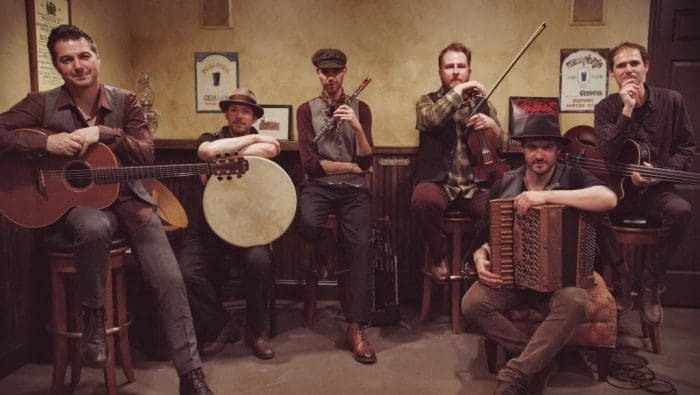 Doolin
Toulouse, France
Irish with a French twist
Thanks to the inspiration and talent of its members, Doolin' is currently one of the most innovative bands of the Irish music scene.
Doolin', formed in Toulouse in 2005, comprises six accomplished and eclectic musicians who have gained fame through their music. French in origin – though easily mistaken for Irish musicians – this sextet (guitar, bodhrán, violin, tin whistle, accordion/vocals, bass) brings a fresh approach to Irish music. Inspired by the purest tradition, Doolin' combines instrumentals, vocals and original compositions in a resolutely modern style. The arrangements, at times taking their inspiration from pop-rock, folk, jazz, funk or even rap (and always in the best taste), emit great energy.
That's Doolin' – Irish music with a French touch!
Doolin' is an Irish music group whose name derives from the little village of musical fame in south-west Ireland. Whilst some of the band were immersed in the world of traditional Irish music, and others were active in the jazz scene or in the pop rock wave of the eighties and nineties, they found a common love in traditional Irish music. From ballads to furiously fast jigs, from their own compositions to traditional tunes, Doolin' offers a rich palette of sound.
Following on from their success on stage, Doolin' took to the studio to record the albums: Popcorn Behavior (2006, distributed by Keltia Musique); Angels are Free (2008); Doolin' Live au Central Park (2010); Exile (2011) and Live in Lorient (2013, distributed by Coop Breizh).
"France's premier Celtic band" – SONGLINES
"They sing in English and in French and sing beautifully I should add. Their musicianship is nothing to sneer at as well, strong guitar and wicked whistle compliment unique fiddle, bass and accordion." – John Baker, Irish American News