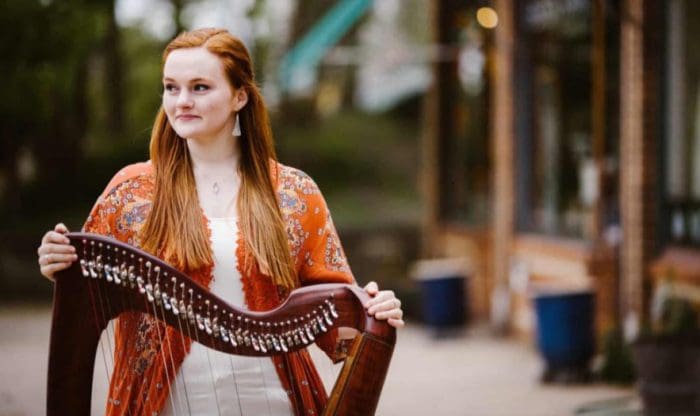 Hannah Flower
St. Paul, MN, USA
See Schedule
Hannah Flowers is a singer and harpist from St. Paul, Minnesota. Classically trained from a young
age, she discovered Traditional Irish music as a teenager and hasn't looked back since. Known
for her sensitive and lyrical accompaniment of songs as well as her syncopated and rhythmic
accompaniment of dance tunes, Hannah enjoys exploring the full depth of traditional Irish music
and song. She holds a B.A. in music and a Master's Degree in Irish Traditional Music Performance
from Maynooth University in Ireland.
Hannah enjoys an active performing career including performances at the Milwaukee Irish Fest,
La Crosse Irish Fest, Minnesota Irish Fair, Minnesota Renaissance Festival, IAM's St. Patrick's Day
Celebration, the Celtic Junction Arts Center, as well as many solo shows, programs, and
workshops across the US and Ireland.
As a singer Hannah found herself drawn to traditional songs in the Irish language and has
learned dozens of songs from her longtime teacher, mentor, and friend, guitarist and singer
Dáithí Sproule. Hannah's studies in Ireland has fueled her interest in combining her singing and
harp playing and make a name for herself as a harpist/singer with an understanding of both
ancient harp techniques and an ear for the more modern sounds and techniques of Irish lever
harp. Her passion is accompanying herself on the harp while singing songs, especially songs in
the Irish language.
In late 2018 she released her debut album "Amhrán na Cruite/Song of the Harp" which featured
twelve songs in the Irish language with harp accompaniment. She was joined on the album by
mentor and renowned Irish guitarist Dáithí Sproule, flautist and singer Cory Froehlich, sean-nós
dancer Danielle Enblom, and fiddler David Ochs.
Hannah was awarded a Fulbright Student award in 2020 to pursue post-graduate research in
Irish harp accompaniment and complete a master's degree in Irish traditional music at
Maynooth University outside Dublin, Ireland.