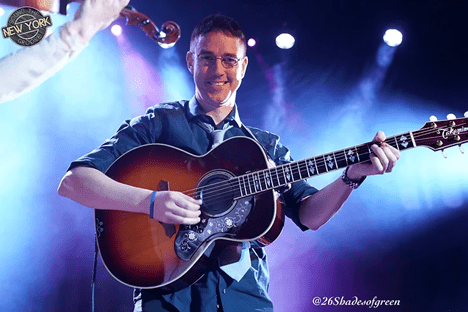 Peadar Hickey
New York City, USA
[Fri-Sat-Sun]
Peadar Hickey (guitar/vocals) comes from Dublin, Ireland and has been a main fixture on the New York music scene since landing in the US in 2010. A full-time performer across many genres, Peadar draws from folk, traditional, rock and country music making him a highly versatile entertainer and front man for the Basket House Band.
Peadar has toured the US and Europe extensively with various bands including The Young Wolfe Tones, The Prodigals and The Mickey Dodgers but is best known for being one of Times Square's mainstay entertainers. Peadar is the resident Irish Guitar teacher at Irish Arts Center in Manhattan. Notable performances over the years include: a special performance at Gracie Mansion for Mayor Bloomberg and Irish Prime Minister Kenny on St Patricks Day 2012 and a special performance for President Obama, Irish Prime Minister Kenny and other dignitaries on St Patrick's Day 2016 The Capitol, DC.
Peadar has played countless Irish festivals all over the US including: Kansas City Irish Fest, Cleveland Irish Cultural Festival, and has also been a regular featured performer at Mandalay Bay Casino Las Vegas, Featured solo artist at Irish Arts Center Stage at Porch Stomp music Festival on Governor's Island 2019. Weston Irish Festival as guitarist/singer for The Prodigals.Jan 2018 – November 2018: Weekly residency at Opry City Stage, NY – a satellite venue of the Grand Ole Opry Nashville.