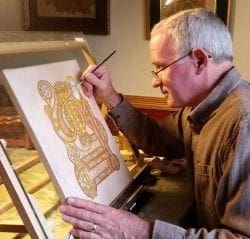 Michael Carroll
Art Exhibit
Michael Carroll has been resurrecting the art of the 8th century Irish monks for over twenty-five years. His exquisitely rendered calligraphic works on parchment have been likened to "lost pages from the Book of Kells." But these are not copies…each one a brand-new, original design, hand-lettered and painted with quill and brush as was done a thousand years ago.
A native of Chicago, Michael studied for the archdiocesan priesthood, but ultimately chose to pursue Celtic Art. He is one of the five founding members of the American Celtic group, whose exhibition toured the US from 2000-2010. His work has been shown internationally, notably in London at the Celtic Art: An Exhibition of the Artform exhibit in 2001. Carroll has also authored three books including Railroad Man, an historical biography of his grandfather who immigrated to America in 1904. He received the Irish Books, Art and Music (IBAM) Award for Visual Art in 2015, and since 2018 has served as Celtic Art instructor at the Irish American Heritage Center in Chicago.
On loan from the Waterloo Center for the Arts, Michael Carroll's works will be on display Iowa Irish Fest weekend in the Blacks Building
Images in gallery from left to right.
1.Cead Mile Failte (1998) Translation: "One hundred thousand welcomes!" Illuminated page, 12 x 16 ", gouache on vellum.
2. Cead Mile Failte (detail capital C) 4 x 5"
3. Ubi Dubium, IbChai Libertas (2016) Roman proverb: "Where there is doubt, there is liberty." Illuminated page, 11 x 14″, gouache on vellum.
4. Chase (2006) Dog and cat zoomorphic interlace, 10 x 10″, gouache on vellum.