Hero's Area
Mulberry Street (between E. 3rd & Park Ave)
Virtual Reality Simulator
Friday, August 5th from 4pm-8pm
Saturday, August 6th from 10am-6pm
Sunday, August 7th from 11:30am-4pm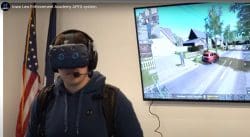 New this year to the Hero's Area- Hawkeye Community College's Regional Police Academy will be giving you the opportunity to experience one of the latest technologies in police training. The Apex Officer's virtual reality simulator is a new and innovative way of giving officers and cadets from all over Iowa hands-on training in de-escalation situations.
This free experience will last around 5 minutes per person. The participating will wear a headset, interact with the scenario and then explain how it helps with police training.
Anyone under the age of 15 is welcomed to try as long as their gradian on site. Individuals who get vertigo or motion sickness should let the instructor know prior to participating.
Coffee and Donuts
Saturday, August 6th at 10am-11am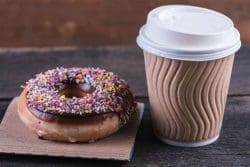 Coffee and donuts for veterans and first responders
Pink Heals Fire Truck
Saturday, August 6th at 9am-6pm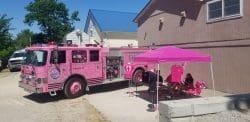 Come see the pink firetruck. This organization supports communities with love, hope, and awareness for cancer and illness. Kids love to sit in the firetruck for a photo. Sign a message on the firetruck to cancer survivors and those lost to cancer and illness.
USS The Sullivans DD 537 and USS The Sullivans  DDG 68 Military Reunion
Saturday, August 6th at 2pm-2.30pm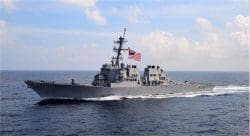 Come on out and meet the crews from the 2 Navy ships named for Waterloo's 5 Sullivans brothers.
We are honored to have the Captain, Command Master Chief, Public Affairs Officer and 5 sailors coming from the active duty Navy ship USS The Sullivans DDG 68.   These sailors recently returned from back to back deployments including an around the world deployment.  Come say hello and thank them for their service.
We are commemorating the 80th anniversary of the sinking of USS Juneau, where 687 men were killed including the 5 Sullivan brothers.   We are also celebrating the 25th birthday of USS The Sullivans DDG 68.   Many people from Waterloo traveled to New York to be there for the commissioning of the ship in 1997.
USS The Sullivans DD 537 is a museum in Buffalo, New York and celebrated her 79th birthday this year.
Friday, August 5
4:00   Military Lego exhibit by Sam Singewald  USS Juneau, USS Fletcher, USS Laffey
4:00 – 8 pm Apex Officer's Virtual Reality Simulator
5:00-7:00 Black Hawk County K9 Unit- come meet Jarvis and Deputy Chase
Saturday, August 6  –  for Heroes Area on 3rd and Mulberry Street next to the Elk's Club
9:00-6:00 Pink Heals Fire Truck
10:00-11:00 Coffee and Camaraderie for veterans and first responders in the Heroes Area on 3rd and Mulberry St. next to the Elk's Club
10:00- 6 pm Apex Officer's Virtual Reality Simulator

10:00 -12:00   Military Lego exhibit by Sam Singewald  USS Juneau, USS Fletcher, USS Laffey
12:00 "We Stick Together" video at Nagel Stage honoring the 80th anniversary of the loss of the USS Juneau and the 5 Sullivan brothers
12:15 Missing Man/POW Ceremonyat Heroes Area Stage
1:00- 3:00 pm  Black Hawk County K9 Unit- Come meet Jarvis
2:00 Honoring USS The Sullivans DD 537/DDG 68- Captain, and Command Master Chief Meet and Greet
3:15 Honoring USS Iowa SSN 797 at Heroes stage
Sunday, August 7
10:00 Outdoor Mass at Iowa Irish Fest at Lincoln Park- sailors in the procession
10:00-1:00 Military Lego exhibit by Sam Singewald USS Juneau, USS Fletcher, USS Laffey
11: 00 Sullivan Song, We Stick Together on the Nagel Stage
11:30- 4 pm Virtual Reality Simulator
11:30- Ribbon cutting at Manatt's Concrete of Military display
12:00 Sullivan Song, We Stick Together video on the Nagel Stage
1:30 Heroes Area- recognition of Police and firefighters of the governor's Sullivan Brothers https://dps.iowa.gov/2020-2021-governors-lifesaving Heroes Area on 3rd and Mulberry Street next to the Elk's Club
Hero's Area is sponsored by: