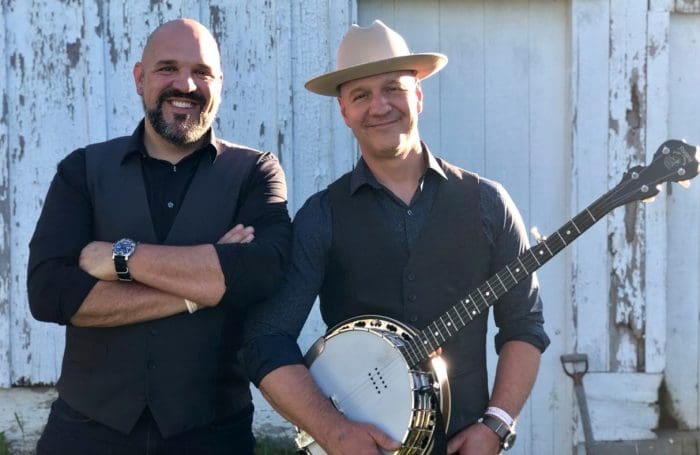 Brother Crowe
Detroit, Michigan USA
[Fri-Sat-Sun]
Derek Wikarski – Lead vocals, harmonica, bodhran, mandolin
Paul Wikarski – Guitar, banjo, fiddle, bodhran, vocals
​Hailing from Detroit—and damn proud of it—Brother Crowe has hammered through over 100 shows in a year, sometimes playing three gigs in a day. But now is their time to shine. The band consists of two brothers, Derek (vocals/harmonica/bodhran) and Paul (guitars/banjo/vocals). Brother Crowe's purpose, is honing in on a New Indie Folk/Bluegrass sound that still possesses a somewhat traditional Celtic style. Paul, who along with his brother was influenced by his father's love of Folk and Celtic music, is dubbed Brother Crowes' main songwriter.
The duo works on music together, jamming out the skeletons of tunes until they're finished. "Derek will then fine tune some of the melodies and the lyrics a little bit, "Paul says. "He's the one singing them. There are a few things that he'll truncate or maybe he'll change a phrase up, add a half verse or a full verse from what I originally wrote. The songs definitely go through an element where we pound them into shape."
The focus for Brother Crowe has been on original music, while trying to branch a tad outside of the box. This is the time for Brother Crowe, with the influx of indie folk acts on the radio.
"People like Mumford and Sons and the Avett Brothers come out and they have these different instruments in bands that people don't know about and they're making it mainstream," Derek says. "It's nothing to turn on the radio and hear a banjo, a harmonica, a mandolin, or even a fiddle." Their music is going down favorably at local venues as well as well-attended festivals. That's where Brother Crowe is at their finest. "There's an element of spontaneity at festivals," Derek says. "We really engage the crowd. It's really fun that we don't ever play the same stuff twice when we do the gigs. People love it and we love it."