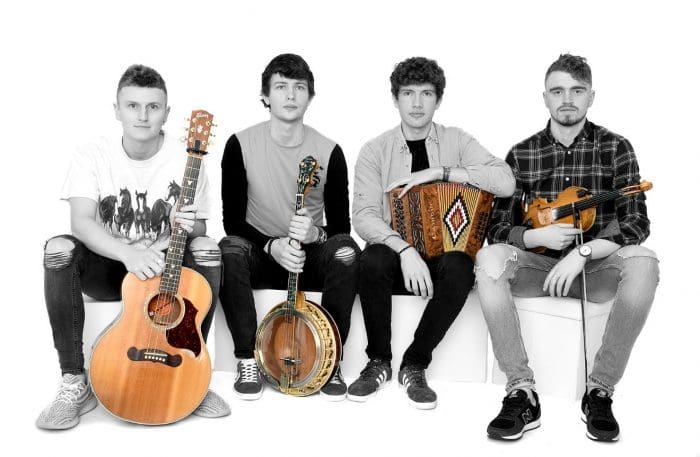 Boxing Banjo
Castlebar, Co. Mayo, Ireland
[Fri-Sat-Sun]
New to Iowa Irish Fest this year
Boxing Banjo is the most exciting new act on the Irish traditional music scene. Comprising four of the most accomplished Irish musicians, brothers Dara (29) and Mick Healy (26) along with Joseph McNulty (22) and Seán O'Meara (26) have amassed in excess of 20 All Ireland titles on various instruments and in singing along with 4 world bodhrán titles.
Having all been immersed in music from a very early age, they became equally at home playing a range of musical genres such as classical, Irish traditional and rock music. Between them, they have toured extensively and performed in countries including Russia, Belgium, China, Chile and the United States.
They have now joined forces and combined their considerable individual experience and talents to create a unique blend of traditional Irish music and song, old time and bluegrass music. Combining a myriad of instruments including button accordion, banjo, guitar, mandolin and fiddle, their high-octane performances encapsulate their raw passion for their music, influenced heavily by the rugged coastline of their native west of Ireland.
"All under 30, this is another of the new bands that amaze us with their talent and musical maturity at such young ages. Brothers Dara and Mick Healy hail from Castlbar, County Mayo and were playing from the time they could walk. Both are certified classroom teachers who are taking a break to devote their full time to the music. Dara, a multi instrumentalist, is a master of the buttonbox, dances, and composes. Mick, who also has mastered many instruments, plays a dynamite banjo, is a well known Irish dancer, and has an enjoyable and calming voice. Joe McNulty is a star on the bodhran, fiddle and guitar, and Sean O'Meara, of Project West and Olliam fame, is masterful on the guitar and bass." – Irish Music News